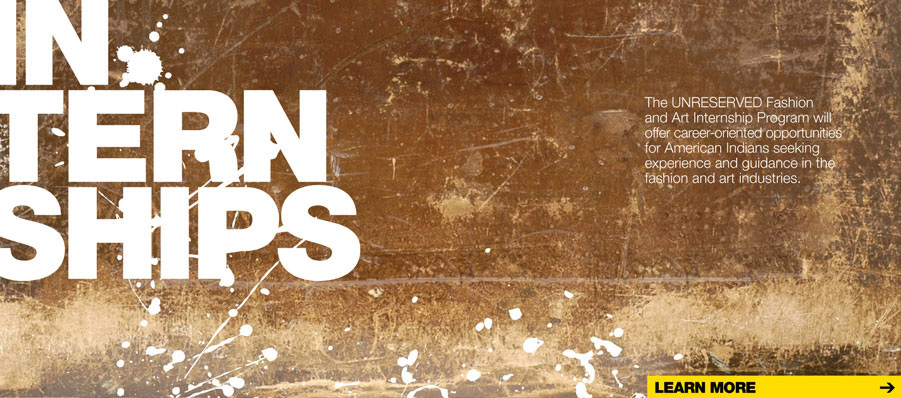 The mission of UNRESERVED is to foster and encourage the talents of American Indians interested in exploring and pursuing careers in the worlds of fashion and art.
UNRESERVED seeks to create awareness and bridge American Indian communities with established companies and organizations in these industries, renewing the relevance and power of American Indian cultures, ensuring a sustainable model for self-sufficiency and driving economic development.
UNRESERVED LAUNCHES DESIGNER COLLECTIVE A FASHION SHOWCASE OF EMERGING AMERICAN INDIAN TALENT
UNRESERVED American Indian Fashion and Art Alliance Co-Founders Gail Bruce and Michael Chapman are pleased to introduce UNRESERVED Designer Collective, the organization's first annual showcase of emerging American Indian talent. The fashion installation, featuring accessory and ready-to-wear designers from varying backgrounds and tribes, will take place during New York Fashion Week at the Bryant Park Hotel Loft on Thursday, February 11th, from 4:00 – 5:30pm.

UNRESERVED PRESENTS IN/SIGHT: A GROUP SHOW OF CONTEMPORARY ART BY AMERICAN INDIAN ARTISTS
UNRESERVED Alliance is pleased to announce IN/SIGHT, an exhibition of art by American Indian artists, curated by Clarissa Dalrymple and UNRESERVED co-founder Michael Chapman. The exhibition is a survey of work by both emerging and established artists working in various media. Twenty-four artists spanning several generations are represented in the show.

UNRESERVED BRINGS OPPORTUNITY TO AMERICAN INDIAN COUNTRY
Gail Bruce and Michael Chapman, Co-Founders, UNRESERVED: American Indian Fashion and Art Alliance, are pleased to announce the launch of the UNRESERVED Alliance Fashion and Art Internship Program, created by American Indians for American Indians. The first initiative of its kind, this program will offer and develop rare opportunities for American Indians seeking experience and guidance in the fashion and art industries.

UNRESERVED DEBUTS AT SANTA FE INDIAN MARKET
On Saturday, August 22nd to kick off the UNRESERVED American Fashion and Art Alliance, co-founders Gail Bruce and Michael Chapman, hosted a reception during Santa Fe Indian Market.

HISTORY + GOALS
UNRESERVED was founded in 2009 by American Indian entrepreneurs and leaders from the international worlds of fashion and art.
Countless interviews and conversations with established American Indian artists and fashion designers on reservations across the country enlightened us to the many challenges they face when approaching the larger marketplace.
UNRESERVED was born out of a need to expand American Indian fashion and art beyond the reservation and into mainstream industry.
Historically, art and fashion have been intrinsic to American Indian culture. These disciplines provide form and function within tribal societies by reinforcing tradition and creating a cohesive thread that connects time-honored value systems and lends meaning to each generation. Despite this fact, career paths in the mainstream fashion and art sectors have not been viable options for emerging Indian talent.
UNRESERVED introduces American Indian culture and creativity to the established fashion and art industries. The organization fosters educational, economic and sustainable opportunities while creating global awareness about American Indian talent.