IN/SIGHT 2010 A group show of contemporary art by American Indian Artists
January 14th 2010 - February 13th 2010
UNRESERVED Alliance is pleased to announce IN/SIGHT 2010, an exhibition of art by American Indian artists, curated by Clarissa Dalrymple and UNRESERVED co-founder Michael Chapman. The exhibition is a survey of work by both emerging and established artists working in various media. Twenty-four artists spanning several generations are represented in the show.
The work ranges across the entire spectrum of contemporary practice from painting and photography to sculpture, video and mixed media installation. Superficially it might resemble any broad ranging survey of contemporary artists, except that there is a subtle pervasion of sensibility and spirit unique to the American Indian experience that lends the work rich additional dimensions of iconography, mythology, historical reference and skill traditions--dimensions that surprise and delight again and again. This cultural resonance notwithstanding, these are contemporary artists in the fullest and most universal sense. Chapman says, "With IN/SIGHT 2010, we are trying to make sure that the talented, lively and relevant American Indian voices are part of the contemporary art dynamic here in the nation's largest art market."
Artists whose work will be included in the show are: Marla Allison, Rick Bartow, Lorenzo Clayton & Timothy Patrick Corbett, Cloud Medicine Crow, Joe Feddersen, Nathan Hart, Lisa Holt & Harlan Reano, Norma Howard, Athena La Tocha, Jason Lujan, Douglas Miles, Eliza Naranjo Morse, Jolene Rickard. Mateo Romero, Sarah Sense, Preston Singletary, Bently Spang, Renzo Spirit Buffalo, Gail Tremblay, Kade Twist, Will Wilson, and Steven Yazzie.
Of the show, co-curator Dalrymple adds, "It has been truly exciting to meet artists working so seriously, with such dedication to their professions and communities. I am honored to have participated, however briefly, in such a rich and surprising world. I feel broadened and inspired, having been taken so pleasantly outside my usual experience, into a world of where art and life are vitally connected."
IN/SIGHT will be on view at the Chelsea Art Museum in New York City from January 14th through February 13th. The Museum occupies the former site (2004-2007) of the New Museum, and is located at 556 West 22nd Street. Although both UNRESERVED and the Chelsea Art Museum are non-profit organizations, all the works in the show are for sale and proceeds go to the artists.
UNRESERVED: American Indian Fashion and Art Alliance is an organization dedicated to championing American Indian talent in the fashion and art industries. UNRESERVED was formed by a team of American Indian entrepreneurs and leaders dedicated to empowerment, education and sustainability, encouraging cultural renewal within American Indian communities. Today, there are over 2.5 million American Indians and Alaska Natives from over 500 tribes. UNRESERVED will foster growth by bringing opportunity and education to these communities. Its goal is to provide American Indian youth with tools that encourage artistic expression and result in a renewed sense of pride and identity. UNRESERVED generates positive global awareness and reaffirms talent that is prevalent in American Indian culture. Co-founder Gail Bruce explains, "As UNRESERVED grows and we educate the next generations through internships, hands on experience and exposure we are looking forward to seeing American Indian artists and designers among the marquee names of future Whitney Biennials and Seventh on Sixth runway shows."

Back to Program Listing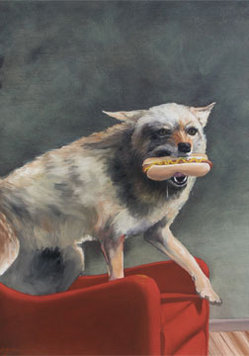 IN/SIGHT 2010
January 14th - February 13th, 2010
Hours: Tuesday through Saturday 11AM-6PM, Thursday 11AM-8PM
For general information call: 212-206-6580
Press Contact and Image requests:
Company Agenda 212-358-9516