THECLOTHESWHISPERER.COM
February 12 2010
I thought this collective of Native American designers was really interesting. The jewellery was exceptionally spectacular and fresh...
Veronica and Dylan Poblano, Zuni. A mother and son team, the Poblanos infuse their finely wrought silver pieces with Zuni aesthetic. Each piece is a one of a kind.
Patricia Michaels, Taos Pueblo. The only ready to wear designer at the exhibit, Patricia draws inspiration from her Native American heritage as well as the natural environment. She also creates her own textiles in what she described to me as her humble studio "in her garage." Pretty impressive.
Designer 4: Maya Stewart, Chickasaw/Creek. Small friggin world. Accessories designer Maya, with her range of supersoft lambskin bags and clutches, as it turns out, is not only a student at LCF, but also lives just around the corner from me in Notting Hill. Guess the whole world is a tribe after all. Well, at least the fashion world.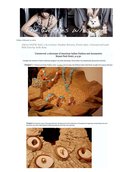 Back to Press Listing