New York Social Diary
February 3 2010
When I was a wee one, growing up in New York City and occasionally allowed to watch "Cowboy & Indian" sagas on television (which was rationed to only a few hours per week) my progressive Mother always urged me to root for the "Indians."
She explained that they had gotten a "raw deal" – their wonderful culture decimated in the settling of our great nation. When my parents passed, I inherited some "artifacts" with certificates, noting she had dutifully supported a number of Native American causes and schools.
So I almost inherited my interest and concern for the Native American community – Being a young activist for that cause, among many, during the 60's Civil Rights movement.
As an adult I continued, Associate Producing a Native American play, being involved with the NYC branch of the Smithsonian Museum, photographing the Native American Music Awards (which became part of the Grammy's) ... realizing that many I admired – from Rita Coolidge thru Jon Densmore were Native American. Sometimes I think I actually was a squaw in some pastlife – or perhaps "Princess Summer-Fall-Winter-Spring" for all you Howdy Doody veterans.
Along the way I met Gail Bruce, an extraordinary woman of Cherokee descent – whose many accomplishments included the creation of The Native American College Fund. She and her husband, producer Murray Bruce, own Ramscale, that awesome Penthouse atop Westbeth, where you may well have attended a fabulous special event.
Gail's new organization, co-founded by Michael Chapman, "UNRESERVED: American Indian Fashion and Art Alliance," is the sponsor of the new contemporary Native American Art exhibition at the Chelsea Museum.
On view are works by 24 emerging and established artists, utilizing painting, photography, sculpture and assemblage to create fascinating art that reflects the traditions, iconography, mythology and materials of Native American culture.
Today there are 2.5 million American Indians and Alaskan Natives from over 500 tribes. As in the case of a significant portion of indigenous peoples worldwide, many Native Americans still live in underserved communities, battling poverty and its effects. UNRESERVED seeks to empower through education, fostering tools to encourage youth in artistic expression. During NYC's upcoming Fashion week it will present the first show of Native American designers.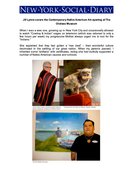 Back to Press Listing