Eventful
January 23 2010
Description The exhibition IN/SIGHT 2010 is a survey of work by both emerging and established artists working in various media. Twenty-four artists spanning several generations are represented in the show. The work ranges across the entire spectrum of contemporary practice from painting and photography to sculpture, video and mixed media installation. Superficially it might resemble any broad ranging survey of contemporary artists, except that there is a subtle pervasion of sensibility and spirit unique to the American Indian experience that lends the work rich additional dimensions of iconography, mythology, historical reference and skill traditions, dimensions that surprise and delight again and again.
Cost Payment required. $8 adults, $4 students and seniors, free for members and visitors 16 and under Groups $4 per person for a minimum of 10 — call ahead to arrange. Come enjoy the museum for free on Thursdays until 8pm!
Chelsea Art Museum Chelsea Art Museum has owned the entire building in which it resides since opening in 2002.
Mission statement: Chelsea Art Museum, Home of the Miotte Foundation, showcases modern and contemporary art through exhibitions that reflect current social issues. Housed within CAM, the Miotte Foundation preserves and exhibits abstract art, particularly the work of Jean Miotte. Committed to the exploration of art within the context of cultural exchange and dialogue, CAM furthermore serves as a meeting point for art and ideas from around the world though its thematic exhibitions, performing arts series, and comprehensive public programs. Docent-led tours are available every Tuesday, Thursday, and Saturday and are free with museum admission. See website for more information.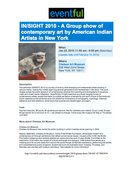 Back to Press Listing