AnimalNY
January 7 2010
Coyotes Eating Hot Dog, Other Themes Expected at Exhibit for Native Americas.
Next week, Unreserved Alliance opens an exhibition focused on American Indian art at the Chelsea Art Museum. Twenty-four artists, both emerging and established, showcase a collection of pieces that include this stunning portrait of a coyote with a hot dog by Phoenix-based artist Steven Yazzie.
Popularly seen as kidnappers and killers, the coyote is also a mythological character in many American Indian cultures. Although the folklore varies, the coyote character is typically cast as a trickster with anthropomorphic qualities that might help explain why this one is drooling all over a mustard-laden piece of processed meat.
"IN/SIGHT 2010," January 15 – February 13, UNRESERVED at the Chelsea Art Museum, 556 West 22nd Street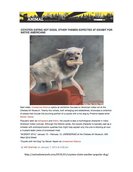 Back to Press Listing