New Mexico Business Weekly
August 19 2009
A new nonprofit dedicated to advancing American Indian artists and designers will kick off at he Santa Fe Indian Market.
Unreserved American Indian Fashion and Art Alliance received a $400,000 grant from the W.K. Kellogg Foundation. It is based in New York CIty, but will work throughout the country, said Michael Chapman, a co-founder with Gail Bruce.
Unreserved will foster emerging American Indian artists who want to pursue careers in fashion and at through mentoring programs and career opportunities.
"The problem is not necessarily here in the Southwest, but in the rest of the country, the perception of Indians is sort of time-locked and there isn't really a contemporary context for what we can contribute," said Chapman, former chairman of the Menominee Tribe in Wisconsin. "Our iconic imagery has done extraordinarily well, but it has been appropriated by non-Indian fashion designers. It's time for us to take control of our images and the perceptions people hold of us."
The group is working with several artists in New Mexico, such as Patricia Michaels of Taos Pueblo. It will hold its kickoff event at NIMAN Fine Art, 125 Lincoln Ave. in Santa Fe on Aug. 22 from 6 to 8 p.m.
Unreserved will do an art show in New York in December and sponsor an Indian designer to go to Fashion Week in New York next February.
"New York is one of the art capitals of the world and there is no [Indian] presence," he said.
Designers Donna Karan and Eileen Fisher ahve expressed interest in working with Unreserved. An existing program started by Bruce that brings students from the Institute of American Indian Arts in Santa Fe to the Metropolitan Museum of Art will now be under Unreserved's umbrella.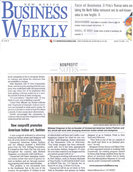 Back to Press Listing